Acheron
by Sherrilyn Kenyon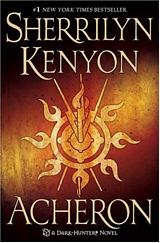 Acheron
Sherrilyn Kenyon
St. Martin's
Paperback
August 2008
544 Pages
ISBN 10: 0-312-36215-3
ISBN 13: 978-0-312-36215-7
Romance novel

Series: Dark-Hunter
The highly anticipated story of Acheron, the Dark-Hunter leader.

Formats » Paperback, Hardcover, Kindle Ebook, Audio Download, Audio CD
Need an ebook reader? Check out the Kindle ebook reader or the NOOK ebook reader.
Book Description for Acheron
Possibly one of the most anticipated stories in the Dark Hunter series by Sherrilyn Kenyon. This book tells the never-before-revealed story of the Dark-Hunter leader, Acheron who was made human in order to escape death, but in death, Acheron was reborn a god. . .
Eleven thousand years ago a god was born. Cursed into the body of a human, Acheron spent a lifetime of shame. However, his human death unleashed an unspeakable horror that almost destroyed the earth. Then, brought back against his will, Acheron became the sole defender of mankind.
Only it was never that simple. For centuries, he has fought for our survival and hidden a past he'll do anything to keep concealed. Until a lone woman who refuses to be intimidated by him threatens his very existence.
Now his survival, and ours, hinges on hers as old enemies reawaken and unite to kill them both.
War has never been more deadly... or more fun.
Want more Sherrilyn Kenyon books?
It's easy! Go to the erotic romance book list for Sherrilyn Kenyon to see all the Sherrilyn Kenyon books on this site. There you can find a list of books for Sherrilyn Kenyon and links to search results at bookstores.