Embracing Midnight
by Devyn Quinn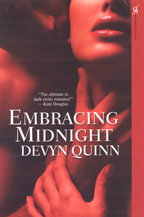 Embracing Midnight
Devyn Quinn
Kensington Aphrodisia
Trade Paperback
December 2008
304 Pages
ISBN 10: 0758216548
ISBN 13: 978-0758216540
Romance novel


Formats » Trade Paperback, Kindle Ebook
Need an ebook reader? Check out the Kindle ebook reader or the NOOK ebook reader.
Book Description for Embracing Midnight
Raw Need
Undercover FBI agent Callie Whitten is tracking an outlaw like no other: Iollan Drake. And one hot night she finds him—and finds the ultimate in extreme sexual pleasure in his arms. Callie craves more. And more...
But Iollan Drake has a lethal secret: he is a vampire, drawing his passionate strength from blood energized by sexual arousal. He in turn craves Callie. She is beautiful and yielding—and utterly fearless. Compelled to brand her as his own, wrapped in darkness, he whispers to her. Give me your soul, Callie. And your body. I will have you! She hears...and she obeys...
Want more Devyn Quinn books?
It's easy! Go to the erotic romance book list for Devyn Quinn to see all the Devyn Quinn books on this site. There you can find a list of books for Devyn Quinn and links to search results at bookstores.