Long Summer Nights
by Kathleen O'Reilly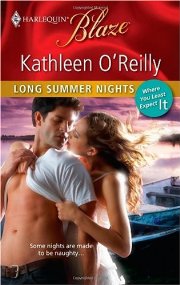 Long Summer Nights
Kathleen O'Reilly
Harlequin Blaze #541
Paperback
May 2010
ISBN 13: 978-0-37379-545-1
Romance novel

Miniseries: Where You Least Expect It

Formats » Paperback, Ebook, Kindle Ebook
Need an ebook reader? Check out the Kindle ebook reader or the NOOK ebook reader.
Book Description for Long Summer Nights
Get away from it all...and have it all!
Journalist Jennifer Dale is on assignment, pretending that miserable isolation in upstate New York is the greatest thing ever. The only bright spot? The wickedly sexy recluse across the lake, who swims in the buff. Now, there's some wildlife a gal can enjoy watching over and over and over....
When Jennifer suffers a slight boating mishap, Hot Swimming Guy comes to her rescue. Turns out Aaron Barksdale is hot enough to switch her damsel's distress into a damsel undressed! But Aaron is more than a hot summer night between the sheets—he's also an award-winning author who disappeared from the public eye years ago. Revealing all could be the scoop of the century, but only if Jennifer's willing to risk it all.
Want more Kathleen O'Reilly books?
It's easy! Go to the erotic romance book list for Kathleen O'Reilly to see all the Kathleen O'Reilly books on this site. There you can find a list of books for Kathleen O'Reilly and links to search results at bookstores.