Tempting
by Susan Johnson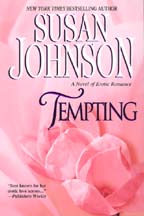 Tempting
Susan Johnson
Kensington Brava
Trade Paperback
March 2001
ISBN 10: 1-57566-803-3
Romance novel


Formats » Trade Paperback
Book Description for Tempting
She Chose Passion Over Propriety...
Her trust and love shattered by public humiliation and private indifference from a man who cared nothing for her happiness—or her pleasure, Princess Christina was a woman trapped in a lonely and passionless marriage. If she was not precisely resigned to her fate, she was not tempted to change it, until she met an American marquis—and temptation took on a new, solidly male form...
The world of casual amours was Max Falconer's forte, not Christina's—and well Max knew it. But he couldn't resist the look in her eyes—shy, yet determined—when she offered herself to him, much less the promise of sensual abandon with a woman who deserved every pleasure she had too long been denied...
Want more Susan Johnson books?
It's easy! Go to the erotic romance book list for Susan Johnson to see all the Susan Johnson books on this site. There you can find a list of books for Susan Johnson and links to search results at bookstores.