Stay the Night
by Lynn Viehl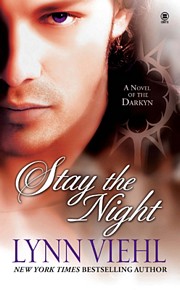 Stay the Night
Lynn Viehl
Onyx
Paperback
January 2009
317 Pages
ISBN 13: 978-0-451-41266-9
Romance novel

Series: The Darkyn
A novel of the Darkyn
"A series ender might not have been the best way to introduce myself to Viehl's books..."
Read TER's Review
Need an ebook reader? Check out the Kindle ebook reader or the NOOK ebook reader.
Book Description for Stay the Night
Stay with her...
Legendary outlaw and immortal vampire Darkyn lord Robin of Locksley has stolen countless works of art, evading human authorities for the past seven hundred years. The prince of theives also tends to steal the hearts of women—until the night he meets the woman who steals his.
Stay on him...
Undercover federal agent Chris Renshaw has no time for an affair with Robin. She's hoping to snag an elusive art thief, using as bait the priceless Maiden's Book of Hours. When it's stolen, Chris has no choice but to join forces with Robin to recover it.
Stay the night...
Although Chris and Robin mistrust each other, the sexual tension between them grows ever tauter. As they cross Europe to rescue the book—and those the thief would hurt—they'll have to choose between losing each other and losing everything valuable to them.
Want more Lynn Viehl books?
It's easy! Go to the erotic romance book list for Lynn Viehl to see all the Lynn Viehl books on this site. There you can find a list of books for Lynn Viehl and links to search results at bookstores.