Blood Deep
by Sharon Page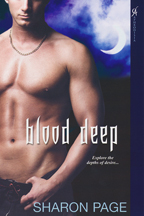 Blood Deep
Sharon Page
Kensington Aphrodisia
Trade Paperback
May 2009
320 Pages
ISBN 10: 0758228791
ISBN 13: 978-0758228796
Romance novel


Formats » Trade Paperback
Book Description for Blood Deep
Wicked Temptation
Going to her lover, Miranda Bond speeds through the night, heedless of danger. Then her carriage is captured by two daring and mysterious highwaymen—two devastatingly handsome men determined to share her in fantastic games of erotic titillation...
Miranda's captors are deadly and dangerous vampires, who have escaped from a hellish prison to seek revenge. She cannot resist as Zayan and Lukos take her to the precipice of surrender—for it may be her innocence that brings them all release...
Want more Sharon Page books?
It's easy! Go to the erotic romance book list for Sharon Page to see all the Sharon Page books on this site. There you can find a list of books for Sharon Page and links to search results at bookstores.