I Want You to Want Me
by Kathy Love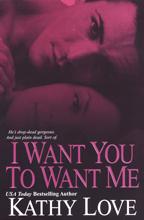 I Want You to Want Me
Kathy Love
Kensington Brava
Trade Paperback
August 2008
320 Pages
ISBN 10: 0758218575
ISBN 13: 978-0758218575
Romance novel


Formats » Trade Paperback, Kindle Ebook
Need an ebook reader? Check out the Kindle ebook reader or the NOOK ebook reader.
Book Description for I Want You to Want Me
Destiny May Not Be Set In Stone, But At Least He's As Hard As A Rock
Erika Todd moved to New Orleans because she needed a change—and, well, yes, because that's what the fortune teller said she would do. Not that she'd admit that to many people. But so many of the psychic's predictions—about her work, even finding that stray black cat—have already come true. Now all the lonely sculptor needs is to meet and fall in love with the prophesized dark-eyed prince...
Reclusive musician Vittorio Ridgewood has a new neighbor he's been trying to avoid. Sure, she's gorgeous, but she's coming on strong, and the last thing the 200-year-old vampire needs is to get involved with another mortal. Especially since several of his former human paramours have lately been turning up dead...
Sensing the relentless beauty needs someone to watch over her, Vittorio agrees to sit for a sculpture, and their attraction to one another quickly ignites. But is passion even this hot worth dying for?
Want more Kathy Love books?
It's easy! Go to the erotic romance book list for Kathy Love to see all the Kathy Love books on this site. There you can find a list of books for Kathy Love and links to search results at bookstores.