Catch a Shadow
by Patricia Potter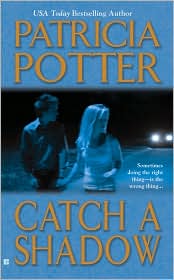 Catch a Shadow
Patricia Potter
Berkley Sensation
Paperback
May 2008
304 Pages
ISBN 10: 0425221199
ISBN 13: 978-0425221198
Romance novel


Formats » Paperback, Kindle Ebook
Need an ebook reader? Check out the Kindle ebook reader or the NOOK ebook reader.
Book Description for Catch a Shadow
When paramedic Kirke Palmer agreed to the deathbed request of a hit and run victim, she thought she was doing the right thing. Little did she realize that her good-will gesture would make her the target of a cold-blooded killer.
Want more Patricia Potter books?
It's easy! Go to the erotic romance book list for Patricia Potter to see all the Patricia Potter books on this site. There you can find a list of books for Patricia Potter and links to search results at bookstores.