Do It To Me
by P. F. Kozak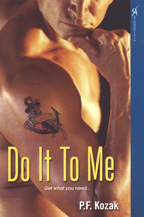 Do It To Me
P. F. Kozak
Kensington Aphrodisia
Trade Paperback
November 2008
304 Pages
ISBN 10: 0758222726
ISBN 13: 978-0758222725
Romance anthology

Formats » Trade Paperback, Kindle Ebook
Book Description for Do It To Me
Come sail away to exotic ports of call under a tropical moon...fall into the strong arms of a hot new lover...just let the waves rock you, baby. All night long...
Cruise Ship Charlie
Wow. Hello, sailor. Who knew a man could look so good in white? Fashion designer Petula just ran into a nauti-boy named Charlie on the luxury cruise ship Ortensia. The strapping young sailor is more than happy to satisfy her most sensual needs—and their torrid first encounter is blazing hot...
Southern Seaman
Buck believes that ladies should always come first and that's just part of his sexy southern charm. The gorgeous ladies of the night who the seasoned crew members introduced him to are totally smitten. Come over here, sugar. He can't say no. Buck gives them his all—again and again and again...
Merchant Maureen
Maureen is a top-notch sailor and an available female on a sleek merchant marine vessel crossing the Atlantic, holding her own on deck—and elsewhere. The entire crew is ready, willing, and able to serve her, but she's only interested in the first mate, Roger Trent. Talk about shipshape. Talk about a stud. Roger is the man...
Want more P. F. Kozak books?
It's easy! Go to the erotic romance book list for P. F. Kozak to see all the P. F. Kozak books on this site. There you can find a list of books for P. F. Kozak and links to search results at bookstores.