Hittin' It
by Amie Stuart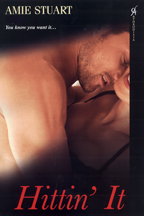 Hittin' It
Amie Stuart
Kensington Aphrodisia
Trade Paperback
February 2009
256 Pages
ISBN 10: 0758228562
ISBN 13: 978-0758228567
Romance novel

Formats » Trade Paperback
Book Description for Hittin' It
Killer Instincts
As a professional hit man, Will Collier has more secrets than most. But on a sweltering Texas night, the lives he's taken rank second place to the love he'd like to be making with a sensual Bohemian beauty. . .
Sabrina Walker is intimately familiar with the havoc Cupid can wreak. She's determined that love will never seduce her again, until she meets Will Collier and discovers that some secrets are better when shared....
Killer Body
John Collier is a hit man who takes his work seriously. Some would say too seriously. He's hell-bent on revenge until he gets sidetracked by an Irish-American mob princess with killer curves and a glib tongue....
Tish Page isn't afraid to use a little good, old-fashioned blackmail to get what she wants. She'll do anything to protect her family. And more importantly, she'll do anything to keep John Collier in her bed and by her side....
Buy Hittin' It
Want more Amie Stuart books?
It's easy! Go to the erotic romance book list for Amie Stuart to see all the Amie Stuart books on this site. There you can find a list of books for Amie Stuart and links to search results at bookstores.