Lyon
by Elizabeth Amber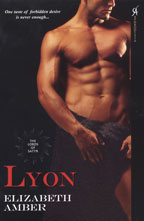 Lyon
Elizabeth Amber
Kensington Aphrodisia
Trade Paperback
August 2008
256 Pages
ISBN 10: 0758220413
ISBN 13: 978-0758220417
Romance novel

Series: Lords of Satyr
Formats » Trade Paperback, ebook
Book Description for Lyon
The last in a fabled line of otherworldly aristocracy, the Lords of Satyr are born to wealth, power, and a talent for sensual delight that mere mortals only dream of. Commanded to marry, these passionate men will travel to Rome, Venice, and Paris—and along the way will explore desires both shamelessly wicked and blissfully divine...
He Is On The Prowl...
The youngest of the Satyr brothers, Lyon enjoys working in the family's Tuscan vineyards, caring for his menagerie of animals and bedding beautiful women. But he knows he must fulfill his destiny of taking the last daughter of King Feydon as his bride. And so he travels to Paris to wed the infamous Juliet Rabelais...
For His Most Luscious Prize...
A celebrated courtesan noted for both her culinary—and carnal—talents, Juliet is a voluptuous beauty with a body meant to tease. And with a full moon only days away, Lyon is quickly aroused. But after a night of intimacy, Lyon wonders if Juliet is truly a mistress of sensual pleasure or whether his sexual mastery will be her undoing...
Buy Lyon
Want more Elizabeth Amber books?
It's easy! Go to the erotic romance book list for Elizabeth Amber to see all the Elizabeth Amber books on this site. There you can find a list of books for Elizabeth Amber and links to search results at bookstores.