Night Of The Hawk
by Vonna Harper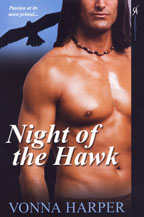 Night Of The Hawk
Vonna Harper
Kensington Aphrodisia
Trade Paperback
February 2009
256 Pages
ISBN 10: 0758229453
ISBN 13: 978-0758229458
Romance novel

Formats » Trade Paperback, ebook
Book Description for Night Of The Hawk
Raw
Reporter Smokey Powers has come to a small Oregon town to investigate a developer's disappearance. But from the moment she wanders into a local art gallery, she's captivated by a stunning photograph of a hawk in flight...and by her urgent need to meet the photographer, to touch him...to know him.
Reckless
When Smokey comes face-to-face with Mato Hawk, a member of a local tribe, his masculinity overwhelms her. For once, this ambitious career woman is learning what it means to submit in every way. Again and again Mato takes her to the brink of release, becoming more dominant and demanding, awakening every inch of her body to pure sensation until she's never felt more alive—or less in control.
And Red Hot
Seduction was a way for Mato to stop Smokey from jeopardizing his people's land with her investigation. Now their desire has become an unstoppable force that's wild, risky, and deliciously unpredictable...
Buy Night Of The Hawk
Want more Vonna Harper books?
It's easy! Go to the erotic romance book list for Vonna Harper to see all the Vonna Harper books on this site. There you can find a list of books for Vonna Harper and links to search results at bookstores.