Nights In Black Lace
by Noelle Mack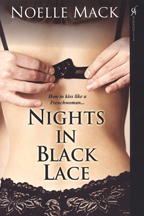 Nights In Black Lace
Noelle Mack
Kensington Aphrodisia
Trade Paperback
October 2008
304 Pages
ISBN 10: 0758221908
ISBN 13: 978-0758221902
Romance novel

Formats » Trade Paperback, ebook
Book Description for Nights In Black Lace
OO LA LA
Paris after dark is as naughty as it gets—and the midnight parties at Oh! Oh! Odette are the naughtiest of all. Because Odette Gaillard is in business purely for fun. Hot fun. She parlayed her modeling income into millions as a designer of gorgeous, super sexy lingerie for couture clients, rock singers, and movie stars, and now her profits go to charity. C'est bon. Beautiful models from all over the world fly in for Odette's dazzling, extravagant shows and the sexiest, most successful men around vie to watch them strut their stuff.
Bryan Bachman, a freewheeling American athlete, bought a raffle ticket with his last euro and won a coveted front-row seat on the catwalk. Cool. Great view. And a hot French chick to sit next to—okay, shoot him now. Odette is just as thrilled. Never has she has seen a man so handsome or so sexy, or with such natural fashion sense. Bryan wears the top half of a wetsuit—unzipped! Over a tank and jeans—ripped! Oo la la. And he just said yes to a very private showing of her most erotic confections. Modeled by Odette, of course. Just for him...only for him...
Buy Nights In Black Lace
Want more Noelle Mack books?
It's easy! Go to the erotic romance book list for Noelle Mack to see all the Noelle Mack books on this site. There you can find a list of books for Noelle Mack and links to search results at bookstores.