Simply Sinful
by Kate Pearce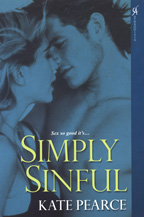 Simply Sinful
Kate Pearce
Kensington Aphrodisia
Trade Paperback
November 2008
304 Pages
ISBN 10: 0758223552
ISBN 13: 978-0758223555
Romance novel

Formats » Trade Paperback
Book Description for Simply Sinful
A Wicked Proposition...
Forced to wed at a young age, Abigail Beecham is tired of living in a sexless marriage. She longs to succumb to the delicious pleasures of pure carnal lust that she has only read about. And if her husband can't satisfy her erotic needs, she's ready to find a man who can...
A Wild Past...
Peter Howard is accustomed to unusual sexual requests. His ten years as a slave in a Turkish brothel left him skilled in sensual delights. But there is little that actually arouses him—until he meets Abigail. Now he longs to tease and torment her until she cries out with pleasure. Maybe then he'll finally experience that exquisite feeling of bliss he so desperately desires...
Buy Simply Sinful
Want more Kate Pearce books?
It's easy! Go to the erotic romance book list for Kate Pearce to see all the Kate Pearce books on this site. There you can find a list of books for Kate Pearce and links to search results at bookstores.