Into the Crossfire
by Lisa Marie Rice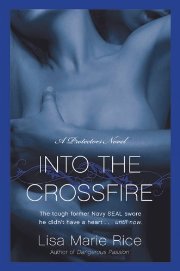 Into the Crossfire
Lisa Marie Rice
Avon Red
Trade Paperback
July 2010
304 Pages
ISBN 10: 0061808261
ISBN 13: 978-0-061-80826-5
Romance novel

Series: Protectors
The tough former Navy SEAL swore he didn't have a heart...until now. A Protectors Novel.
Formats » Trade Paperback, Ebook, ebook
Book Description for Into the Crossfire
Sam Reston is a former Navy SEAL who likes to keep to himself. He lives in a world that is uncertain, violent, dangerous...and there's no place in it for the weak and helpless. Then the most beautiful woman in the world moves in next door to him....
A new business and an ailing father already complicate Nicole Pearce's life. She doesn't need to become involved with a hard-bodied, hardheaded, secretive neighbor. But Sam Reston leaves her breathless and her body alive with erotic desire. It takes every bit of her control to keep from offering her body to him with no strings attached. But she doesn't know that Sam is working on a dangerous undercover assignment...and that she's about to step into the crossfire.
Sam has never ached this badly for a woman, and he has never fallen in love. Now that Nicole is in terrible danger, he will guard and shield from danger the enticing body he longs to taste and touch. Because a terrorist plot hatched half a world away is heading to their doorstep--and only one man and one woman can derail it.
Buy Into the Crossfire
Want more Lisa Marie Rice books?
It's easy! Go to the erotic romance book list for Lisa Marie Rice to see all the Lisa Marie Rice books on this site. There you can find a list of books for Lisa Marie Rice and links to search results at bookstores.