The Choice
by Monica Belle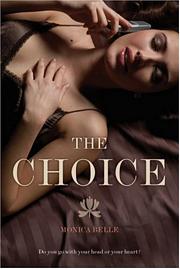 The Choice
Monica Belle
Black Lace
Paperback
May 2009
ISBN 10: 0352345128
Erotica novel

Formats » Paperback
Book Description for The Choice
Poppy Miller is an exceptionally bright and ambitious student at a top British university. Determined to make her mark in politics, she has her mind set on finding a husband with similar aspirations to her own. Stephen Mitchell, a second-year law student, seems to fit the profile and the young pair begin a tender love affair and plan a future together. But then Dr James McLean, a rakish don, appears on the scene. Poppy knows that a liaison with the darkly seductive McLean will change the course of her life - but perhaps deep down that is what she wants after all? Poppy has to make a choice: should she go with her head or with her heart?
Buy The Choice
Want more Monica Belle books?
It's easy! Go to the erotic romance book list for Monica Belle to see all the Monica Belle books on this site. There you can find a list of books for Monica Belle and links to search results at bookstores.