Able-Bodied
by Karen Foley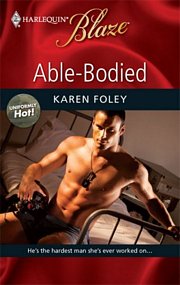 Able-Bodied
Karen Foley
Harlequin Blaze #451
Paperback
February 2009
ISBN 10: 037379455X
ISBN 13: 9780373794553
Romance novel

Formats » Paperback,
Book Description for Able-Bodied
Subject: Ransom Bennett, Delta Force Operator
Current status: Injured but still hot-blooded!
Mission: Regain crack military reflexes. Prove he's ready for active duty.
Obstacle: Hannah Hartwell. Fascinating. Tantalizing. His new neighbor.
All Ransom wants is to get healthy enough to return to the field. But sexy Hannah is testing his composure. The woman is under his skin...but she's also fleeing a shady past. Damn! Hasn't he learned not to play with fire?
Still, Ransom can't help exposing her secrets...and a lot more! Then it's on to his post-injury mission. The highly clandestine operation will involve delicate negotiations, complex maneuvers and fiery explosions.
And that's just in Hannah's bed!
Buy Able-Bodied
Want more Karen Foley books?
It's easy! Go to the erotic romance book list for Karen Foley to see all the Karen Foley books on this site. There you can find a list of books for Karen Foley and links to search results at bookstores.