A Few Good Men
by Tori Carrington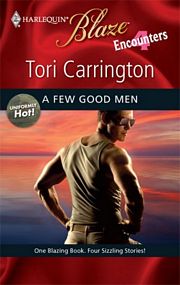 A Few Good Men
Tori Carrington
Harlequin Blaze #445
Paperback
January 2009
ISBN 10: 0373794495
ISBN 13: 9780373794492
Romance novel

Miniseries: Uniformly Hot!
Formats » Paperback, Ebook
Book Description for A Few Good Men
Corporal Eric Armstrong is finally going to meet his sexy new pen pal in the flesh. Only, Eric already knows her...very, very well!
Corporal Eddie Cash has a reputation for living on the edge. Still, even he's worried about his next adventure-fatherhood.
Lieutenant Matt Guerrero has always been proud to serve his country. Only, this time it might cost him his marriage....
Captain Brian Justice loves being a Marine, almost as much as he's starting to love Angela Mitchell. Too bad he's about to lose them both....
Buy A Few Good Men
Want more Tori Carrington books?
It's easy! Go to the erotic romance book list for Tori Carrington to see all the Tori Carrington books on this site. There you can find a list of books for Tori Carrington and links to search results at bookstores.