Christmas Male
by Cara Summers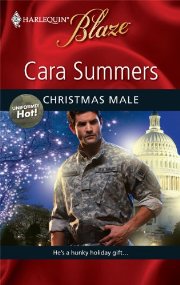 Christmas Male
Cara Summers
Harlequin Blaze #511
Paperback
December 2009
ISBN 10: 0373795157
ISBN 13: 9780373795154
Romance novel

Miniseries: Uniformly Hot!
Formats » Paperback, Ebook
Book Description for Christmas Male
Subject: Captain D. C. Campbell, Military Police.
Current Status: A little bored...but not for long!
Mission: Getting his hands on a priceless stolen diamond.
Obstacle: Trying to keep his hands off his sexy new partner, Fiona Gallagher.
Fiona has never been into Christmas. Having grown up in a series of foster homes, she has no use for Santa...at least until she meets the hottie St. Nick delivers just in time for the holidays—Captain D. C. Campbell.
Technically, they're supposed to be working together to find a stolen diamond, one reported to have the power to bring lovers together. Well, they might not have the stone, but Fiona and D.C. aren't having any trouble getting together—in every sexual position possible!
But it's only a holiday fling, right? It is—unless Fiona's Christmas Male can convince her he's the gift that keeps on giving....
Buy Christmas Male
Want more Cara Summers books?
It's easy! Go to the erotic romance book list for Cara Summers to see all the Cara Summers books on this site. There you can find a list of books for Cara Summers and links to search results at bookstores.