Coming On Strong
by Tawny Weber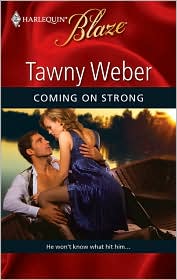 Coming On Strong
Tawny Weber
Harlequin Blaze #462
Paperback
April 2009
224 Pages
ISBN 10: 0373794665
ISBN 13: 9780373794669
Romance novel

Formats » Paperback, Ebook
Book Description for Coming On Strong
By private invitation only...
Event: Very sensual resort opening.
Place: In bed, hopefully!
Host: Hottie millionaire Mitch Carter.
Planner: Belle Forsham. Who once jilted Mitch at the altar. Oops...
When Mitch's new hotel falters, he needs a pro. Enter the It Girl of event planning: the traitorous, damnably sexy Belle. Time for some red-hot revenge!
But Belle has her own secret agenda for her ex-fiancé. And in the meantime, she'll enjoy how Mitch still makes her legs—and every other body part—deliciously quiver.
But it's strictly business between them this time. At least it is...until Belle decides that the best sexual revenge goes both ways!
Buy Coming On Strong
Want more Tawny Weber books?
It's easy! Go to the erotic romance book list for Tawny Weber to see all the Tawny Weber books on this site. There you can find a list of books for Tawny Weber and links to search results at bookstores.