Dangerous Curves
by Karen Anders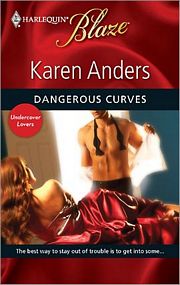 Dangerous Curves
Karen Anders
Harlequin Blaze #497
Paperback
October 2009
ISBN 13: 9780373795017
Romance novel

Miniseries: Undercover Lovers
Formats » Paperback, Ebook
Book Description for Dangerous Curves
FBI agent Max Carpenter is assigned to protect irresistible DEA agent Rio Marshall. Babysitting duty. But for this mission, they'll be whisked away to Hawaii—for security purposes, of course—for sun, sand and plenty of hot, sweet sex....
What Max doesn't know is that Rio has been assigned a task of her own. A task that will require using every asset in her considerable arsenal.
However, when a real threat occurs, seduction is put on the back burner. But nothing—not even fear for their lives—can keep this scorching duo apart for long....
Buy Dangerous Curves
Want more Karen Anders books?
It's easy! Go to the erotic romance book list for Karen Anders to see all the Karen Anders books on this site. There you can find a list of books for Karen Anders and links to search results at bookstores.