Her Last Line of Defense
by Marie Donovan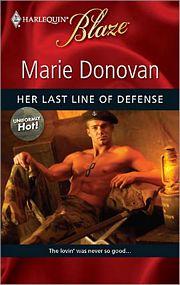 Her Last Line of Defense
Marie Donovan
Harlequin Blaze #493
Paperback
September 2009
ISBN 13: 9780373794973
Romance novel

Miniseries: Uniformly Hot!
Formats » Paperback, Ebook
Book Description for Her Last Line of Defense
Subject: Luc Boudreaux, Green Beret.
Current status: Boiling over—with lust!
Mission: Teach wilderness survival skills to city girl.
Obstacle: Claire Cook. Sweet. Innocent. Dangerously sexy...
Luc didn't plan to spend his leave watching over a debutante. But a powerful congressman's daughter outranks him. Luc's dreading it—until he meets spunky Claire. Oh, are there things he can teach this woman...
Educating Claire fires up certain, ah, primal instincts, and his gorgeous pupil is a quick study. This hard-bitten soldier is falling hard for his feisty beauty, but will he be able to stay the course when the going gets tough for them?
Buy Her Last Line of Defense
Want more Marie Donovan books?
It's easy! Go to the erotic romance book list for Marie Donovan to see all the Marie Donovan books on this site. There you can find a list of books for Marie Donovan and links to search results at bookstores.