Hot Target
by Lisa Renee Jones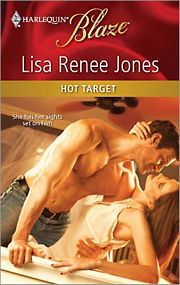 Hot Target
Lisa Renee Jones
Harlequin Blaze #559
Paperback
August 2010
ISBN 13: 9780373795635
Romance novel

Formats » ,
Book Description for Hot Target
Big-league pitcher Luke Winter needs a new security detail and specialist Katie Lyons is the best in the business. Going undercover as his girlfriend is a no-brainer: she's got to stay close. Unable to resist the hottie hurler, Katie launches into a torrid fling.
When playing at being lovers becomes the real— incredible, irresistible—thing, Katie finds that she's taking her eye off the ball. Posing as his girlfriend and being his true-to-life lover are two very different things—and losing focus could cost them both dearly….
Buy Hot Target
Want more Lisa Renee Jones books?
It's easy! Go to the erotic romance book list for Lisa Renee Jones to see all the Lisa Renee Jones books on this site. There you can find a list of books for Lisa Renee Jones and links to search results at bookstores.