Hot-Wired
by Jennifer LaBrecque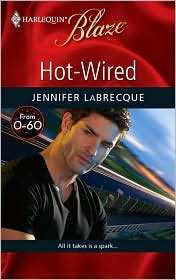 Hot-Wired
Jennifer LaBrecque
Harlequin Blaze #465
Paperback
May 2009
224 Pages
ISBN 10: 037379469X
ISBN 13: 9780373794690
Romance novel

Miniseries: From 0-60
Formats » Paperback,
Book Description for Hot-Wired
Bad boy Beau Stillwell was born with a need for speed. The reigning champ of Outlaw racing, Beau's always been a lightning rod for women—but not one of them has ever sent a real sizzle his way.
Until he meets Natalie Bridges, his little sister's wedding planner. Natalie's uptight. Controlling. But Beau discovers that underneath her cool, classic exterior, Natalie's a fiery little hot rod. And he knows exactly how to get her engine revved....
But when Natalie finds out Beau's deceived her, she hits the brakes. It's time for a little payback. And Natalie's going to start by driving Beau absolutely wild....
Buy Hot-Wired
Want more Jennifer LaBrecque books?
It's easy! Go to the erotic romance book list for Jennifer LaBrecque to see all the Jennifer LaBrecque books on this site. There you can find a list of books for Jennifer LaBrecque and links to search results at bookstores.