Let It Ride
by Jillian Burns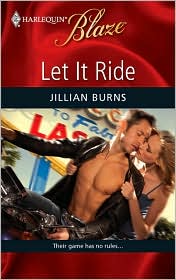 Let It Ride
Jillian Burns
Harlequin Blaze #466
Paperback
May 2009
224 Pages
ISBN 10: 0373794703
ISBN 13: 9780373794706
Romance novel

Formats » Paperback, Ebook
Book Description for Let It Ride
Working as a Keno girl in a Vegas casino, Jordan Brenner took her bets off the sex table ages ago. And all the hot flyboys in the world won't make a difference—until Major Cole Jackson sends Jordan's thoughts and hormones into wicked places indeed....
What Jordan doesn't know is that Cole made a deal with his buddies: get some hot-'n'-heavy action from the Keno girl, or pay up! But Cole doesn't need an incentive. Every time he looks at Jordan's lips (or any part of her body, for that matter), he's immediately aware that something is up—and it isn't his ante!
It looks as if Cole won't lose just his shirt. He'll lose all control, too!
Buy Let It Ride
Want more Jillian Burns books?
It's easy! Go to the erotic romance book list for Jillian Burns to see all the Jillian Burns books on this site. There you can find a list of books for Jillian Burns and links to search results at bookstores.