Letters from Home
by Rhonda Nelson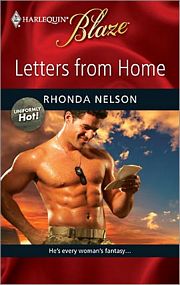 Letters from Home
Rhonda Nelson
Harlequin Blaze #475
Paperback
June 2009
ISBN 13: 9780373794799
Romance novel

Miniseries: Uniformly Hot!
Formats » Paperback, Ebook
Book Description for Letters from Home
Subject: Levi McPherson, Army Ranger.
Current status: Active duty.
Mission: Locate a sexy, unidentified correspondent. Conduct very private negotiations!
Obstacle: Natalie Rowland, longtime star of his X-rated dreams...
Levi McPherson's tour of duty has an unexpected benefit: anonymous red-hot love letters! Someone he knows is mailing the rugged soldier her very explicit fantasies. And he's loving every word.
On an unexpected leave home, he discovers his sexy secret admirer—Natalie Rowland, the longtime star of his own X-rated dreams!
But he's not letting Natalie know her cover's blown...yet. That way, the exquisite pleasure of fulfilling each and every one of her naughty ideas is all his—and hers....
Buy Letters from Home
Want more Rhonda Nelson books?
It's easy! Go to the erotic romance book list for Rhonda Nelson to see all the Rhonda Nelson books on this site. There you can find a list of books for Rhonda Nelson and links to search results at bookstores.