Lone Star Surrender
by Lisa Renee Jones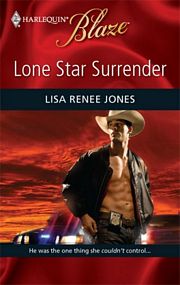 Lone Star Surrender
Lisa Renee Jones
Harlequin Blaze #442
Paperback
January 2009
ISBN 10: 0373794533
ISBN 13: 9780373794461
Romance novel

Formats » Paperback, Ebook, Audio Download
Book Description for Lone Star Surrender
Undercover agent Constantine Vega sacrificed three years of his life building up the case of a sinister drug lord. But only days before the trial, after threats against his life, Constantine is on the run with tantalizing federal prosecutor Nicole Ward-a desperate journey promising both sin and sensation...
Nicole has been trying her best to follow the rules...rules that she once broke with disastrous results. But the magnetic and passionate force of Constantine Vega threatens to unleash every tempestuous feeling inside her. With so much at stake, can she trust Constantine with her body-and her life?
Buy Lone Star Surrender
Want more Lisa Renee Jones books?
It's easy! Go to the erotic romance book list for Lisa Renee Jones to see all the Lisa Renee Jones books on this site. There you can find a list of books for Lisa Renee Jones and links to search results at bookstores.