No Peeking...
by Stephanie Bond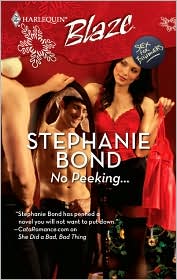 No Peeking...
Stephanie Bond
Harlequin Blaze #440
Paperback
December 2008
ISBN 10: 0373794444
ISBN 13: 978-0373794447
Romance novel

Miniseries: Sex for Beginners
Formats » Paperback, Audio Download
Book Description for No Peeking...
Take one workaholic woman. Mix with letter to self, detailing fantasies about wild, unbridled sex. Add one dangerously seductive man—and indulge in the delicious, sensual results!
When Violet Summerlin receives her old letter, she's intrigued—but too busy to worry about it. It's taking all she's got to battle her lust for her sexy client Dominick Burns.
Then Dominick invites her to Miami for a working holiday. And Violet knows she won't be able to withstand his sensual attack for long.
She doesn't.
The man seems to know just how to please her. Every slow stroke, every breath-stealing adventure takes her to new heights of sexual ecstasy. But mixing business and pleasure can be a dicey combination. Especially when Violet discovers Dominick's been hiding something from her...
Sex for Beginners...Because what you don't know can turn you on!
Buy No Peeking...
Want more Stephanie Bond books?
It's easy! Go to the erotic romance book list for Stephanie Bond to see all the Stephanie Bond books on this site. There you can find a list of books for Stephanie Bond and links to search results at bookstores.