Northern Escape
by Jennifer LaBrecque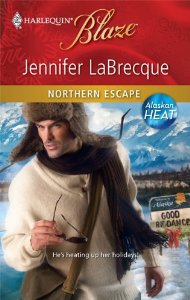 Northern Escape
Jennifer LaBrecque
Harlequin Blaze #581
Paperback
December 2010
ISBN 10: 0373795858
Romance novel

Formats » Paperback, Ebook, Kindle Ebook
Book Description for Northern Escape
Nobody in Good Riddance is wondering how world-class chef Augustina ""Gus"" Tippens ended up running the local diner. No, but everybody's dying to know the identity of the mysterious, sexy stranger who's eyeing her like she's scrumptious crème brûlée...
Travel journalist Nick Hudson loves coming across the unusual—and the annual Good Riddance Christmoose Parade definitely fits the bill! But his biggest surprise is Gus! When they finally lure each other into bed, the sex is better than chocolate. Way better!
But Gus has a secret...and a complicated, dangerous past. Worse yet, when she discovers the truth about Nick, he might never be allowed to sample her delicious goods again. And with a woman like Gus, one taste just isn't enough....
Want more Jennifer LaBrecque books?
It's easy! Go to the erotic romance book list for Jennifer LaBrecque to see all the Jennifer LaBrecque books on this site. There you can find a list of books for Jennifer LaBrecque and links to search results at bookstores.