Out of Control
by Julie Miller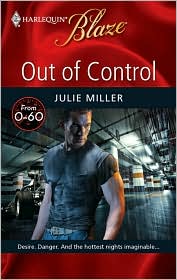 Out of Control
Julie Miller
Harlequin Blaze #459
Paperback
April 2009
224 Pages
ISBN 10: 0373794630
ISBN 13: 9780373794638
Romance novel

Miniseries: From 0-60
Formats » Paperback,
Book Description for Out of Control
Legendary detective Black Jack Riley likes fast cars and faster women. But he's a man on a mission: going undercover at the Dahlia Speedway to avenge a friend.
Enter sexy, unpredictable young mechanic Alexandra Morgan. She's delicious trouble, with a capital T! She's also key to his success...
...if Jack can keep her from blowing his cover.
Their thrilling rides between the sheets are a sweet bonus. Yet no matter how hard and hot Alex revs his motor, vengeance drives Jack. If he loses control, he loses the case.
And even the raciest sex of his life isn't worth that....
Buy Out of Control
Want more Julie Miller books?
It's easy! Go to the erotic romance book list for Julie Miller to see all the Julie Miller books on this site. There you can find a list of books for Julie Miller and links to search results at bookstores.