Overnight Sensation
by Karen Foley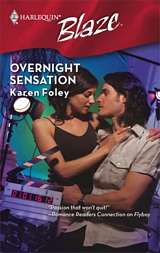 Overnight Sensation
Karen Foley
Harlequin Blaze #422
Paperback
September 2008
ISBN 10: 0373794266
ISBN 13: 978-0373794263
Romance novel

Formats » Paperback
Book Description for Overnight Sensation
Actress Ivy James is finally getting her big break! She's been cast as the lead in a steamy blockbuster movie, a sizzling flick based on war hero Garrett Stokes's military—and sexual—experiences behind enemy lines. In the role, Ivy will be required to shoot a lot of on-screen sex scenes with her costar, one of Hollywood's top hunks. Unfortunately for Ivy, the only guy who can get her motor running is the technical consultant—Garrett himself!
Garrett has been secretly in love with Ivy for years.
In fact, it was only his infatuation with her that got him through all those months in a military hospital. So when Ivy asks him to show her just how good the sex was, how can he resist? But will she still want to share his bed when she learns that Garrett's lust for her was the only reason she got the part?
Want more Karen Foley books?
It's easy! Go to the erotic romance book list for Karen Foley to see all the Karen Foley books on this site. There you can find a list of books for Karen Foley and links to search results at bookstores.