SEALed with a Kiss
by Jill Monroe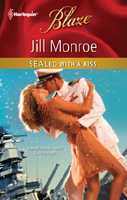 SEALed with a Kiss
Jill Monroe
Harlequin Blaze #589
Paperback
January 2011
ISBN 10: 0373795939
Romance novel

Formats » Paperback, , ebook
Book Description for SEALed with a Kiss
Thanks to her distracted sister, hotel owner Rachel Sutherland is now alone to greet überhot Navy SEAL Riley Wilkes as he disembarks. But when Riley scoops Rachel into his arms for a hot, combustible kiss, Rachel wonders if she owes her sister a big favor….
Now Rachel is reconsidering her stance on bad boys…especially those of the Riley Wilkes variety. In fact, a naughty little fling could be just what the doctor ordered. Because the only thing better than a SEAL in his uniform, is a SEAL out of his uniform….
Buy SEALed with a Kiss
Want more Jill Monroe books?
It's easy! Go to the erotic romance book list for Jill Monroe to see all the Jill Monroe books on this site. There you can find a list of books for Jill Monroe and links to search results at bookstores.