Storm Watch
by Jill Shalvis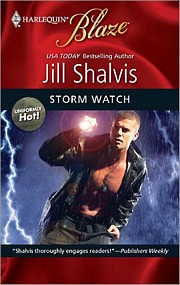 Storm Watch
Jill Shalvis
Harlequin Blaze #487
Paperback
August 2009
ISBN 13: 9780373794911
Romance novel

Miniseries: Uniformly Hot!
Formats » Paperback,
Book Description for Storm Watch
Subject: Jason Mauer, National Guard.
Current status: Homeward bound.
Mission: Getting some R & R!
Obstacle: Lizzy Mann. Sexy blast from the past.
After battling a hurricane of catastrophic proportions, Jason needs some downtime—badly! But there's no rest for the heroic. During another deluge, Jason's savior skills are suddenly in demand...by his hot friend Lizzy.
She's fiercely independent. But that doesn't keep them from having incredible sex as they, ah, ride out the storm!
Jason knows relationships and duty don't mix. Still, he feels as if he's being swept away by a flash flood of desire for Lizzy.
The permanent kind...
Buy Storm Watch
Want more Jill Shalvis books?
It's easy! Go to the erotic romance book list for Jill Shalvis to see all the Jill Shalvis books on this site. There you can find a list of books for Jill Shalvis and links to search results at bookstores.