Sweet Surrender
by Lori Wilde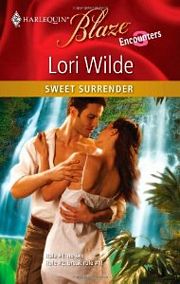 Sweet Surrender
Lori Wilde
Harlequin Blaze #561
Paperback
September 2010
ISBN 13: 978-0373795659
Romance anthology

Miniseries: Encounters
Formats » Paperback, Ebook
Book Description for Sweet Surrender
The Dilemma: How to get over a man-summer gone bad? Ban males next time out.
The Bet: No sex this summer vacation. So who will not hold out the longest?
First there was Bianca
Bianca St. James is desperately pretending her billionaire playboy client isn't fiendishly hot. Self-control...not a chance!
Then Madison
Safely away from temptation, Madison Garrett's confident she'll win the wager...until she sees her travel companion. Will all bets— and clothes—be off?
And finally Emma
Emma Jacobs was set up. Now she's alone in the wilderness with her achingly hot former high school sweetie...surely no one will notice if she's a little bad, will they?
May the best woman win!
Buy Sweet Surrender
Want more Lori Wilde books?
It's easy! Go to the erotic romance book list for Lori Wilde to see all the Lori Wilde books on this site. There you can find a list of books for Lori Wilde and links to search results at bookstores.