The Real Deal
by Debbi Rawlins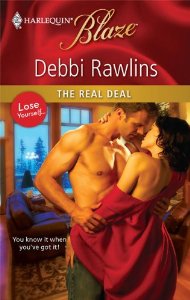 The Real Deal
Debbi Rawlins
Harlequin Blaze #573
Paperback
November 2010
ISBN 10: 0373795777
Romance novel

Formats » Paperback, Ebook, ebook
Book Description for The Real Deal
Emily Carter is in Manhattan for a weeklong adventure—shopping, sightseeing and maybe, possibly, hopefully, sex. She's got a copy of Erotic New York and she's not afraid to use it….
Nick Corrigan finds Emily's naughty guidebook in their cab and hand-delivers it to her hotel. Enticingly anonymous for once, the sexy all-star pitcher is intrigued by the bossy, brainy out-of-towner.
Soon the unlikely pair is steaming up the windows of Nick's penthouse apartment. Could this be just a fun vacation fling…or the real thing?
Buy The Real Deal
Want more Debbi Rawlins books?
It's easy! Go to the erotic romance book list for Debbi Rawlins to see all the Debbi Rawlins books on this site. There you can find a list of books for Debbi Rawlins and links to search results at bookstores.