The Renegade
by Rhonda Nelson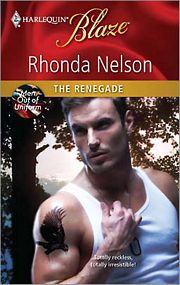 The Renegade
Rhonda Nelson
Harlequin Blaze #557
Paperback
August 2010
ISBN 13: 9780373795611
Romance novel

Miniseries: Men Out of Uniform
Formats » Paperback,
Book Description for The Renegade
Ranger Security expert Tanner Crawford is lethally sexy. With his hair-trigger temper, smart-ass mouth and lady-charmer ways, he's no stranger to trouble. And it turns out that trouble's no stranger to him, either. Because Mia Hawthorne, the only woman who ever rocked his world, just tumbled back into his life. As a client he must protect!
Ah, hell. Anybody but her…
When Mia sees Tanner, her carefully ordered world screeches to a halt. It starts right up again though— in his bed! Sex with Tanner is still incredible. But he's a bad boy destined to break her heart once more… and she craves stable and predictable. Doesn't she?
Well, maybe. But first, she's going to find out exactly what she's been missing. And this time, she'll be the one to walk away.
If she can…
Buy The Renegade
Want more Rhonda Nelson books?
It's easy! Go to the erotic romance book list for Rhonda Nelson to see all the Rhonda Nelson books on this site. There you can find a list of books for Rhonda Nelson and links to search results at bookstores.