Twelve Nights
by Hope Tarr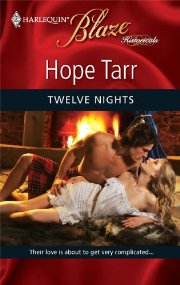 Twelve Nights
Hope Tarr
Harlequin Blaze #512
Paperback
December 2009
ISBN 10: 0373795165
ISBN 13: 9780373795161
Romance novel

Miniseries: Blaze Historical
Miniseries: Blazing Historicals
Formats » Paperback, Ebook
Book Description for Twelve Nights
Bad boy Callum Fraser is head over heels for the first time in his life. Only his beloved, the Lady Alys, is keeping him out of her bed until their wedding Christmas morning. It's enough to drive a man crazy!
Still, he intends to make up for his restraint. There are many ways to seduce, and Callum's a master at all of them. His goal? To leave Alys shivering in desire, anticipating the many delicious ways he'll bring her pleasure on their wedding night and throughout the twelve days of Christmas.
At least that's the plan...until Alys's dead first husband shows up, very much alive!
Buy Twelve Nights
Want more Hope Tarr books?
It's easy! Go to the erotic romance book list for Hope Tarr to see all the Hope Tarr books on this site. There you can find a list of books for Hope Tarr and links to search results at bookstores.