Twice the Temptation
by Cara Summers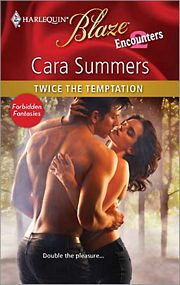 Twice the Temptation
Cara Summers
Harlequin Blaze #555
Paperback
August 2010
ISBN 13: 9780373795598
Romance anthology

Miniseries: Encounters
Formats » Paperback,
Book Description for Twice the Temptation
Playing with Reese
Reese Brightman has a busy life…and a secret fantasy: to play with a no-strings-attached boy toy! When she arrives at the resort she and her sisters own, gorgeously rumpled Mac Davies seems to be up to the task. Who'd have guessed he'd be the best sex she'd ever had. Or that she'd want a repeat performance. But Reese only wants to play with her boy toy, not keep him. Or does she?
Saving Brie
Being witness to a mob hit lands Brie Sullivan at remote Haworth House for her own protection. Bonus? She also gets an irresistibly sexy new bodyguard, Cody Marsh! Why not indulge in her fantasy of one wild night with him? It's not like all that amazing sex will kill her. But if she keeps distracting Cody, somebody else might….
Buy Twice the Temptation
Want more Cara Summers books?
It's easy! Go to the erotic romance book list for Cara Summers to see all the Cara Summers books on this site. There you can find a list of books for Cara Summers and links to search results at bookstores.