Wanted!
by Vicki Lewis Thompson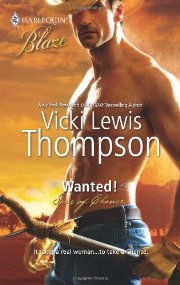 Wanted!
Vicki Lewis Thompson
Harlequin Blaze #544
Paperback
June 2010
ISBN 13: 978-0-37379-548-2
Romance novel

Miniseries: Sons of Chance
Formats » Paperback, , ebook
Book Description for Wanted!
Photographer Dominique Jeffries has come to Wyoming to find herself—her creative self, her sexual self. After escaping the engagement from hell, she's dying to break loose and live a little. And seducing a shirtless, sweaty cowhand looks like just the place to start....
Nick Chance isn't exactly a cowhand but, hey, he'll be whatever the lady wants! Only he soon realizes that this is more than just a quick roll in the hay. There's something about Dominique that calls to him, something about her that completes him.
There's only one problem. Dominique wants a fling, not another relationship.
Little does she guess how easily she'll be persuaded to take a Chance—again and again and again!
Buy Wanted!
Want more Vicki Lewis Thompson books?
It's easy! Go to the erotic romance book list for Vicki Lewis Thompson to see all the Vicki Lewis Thompson books on this site. There you can find a list of books for Vicki Lewis Thompson and links to search results at bookstores.