Who Needs Mistletoe?
by Kate Hoffmann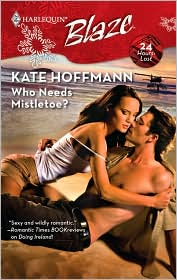 Who Needs Mistletoe?
Kate Hoffmann
Harlequin Blaze #438
Paperback
December 2008
ISBN 10: 0373794428
ISBN 13: 978-0373794423
Romance novel

Miniseries: 24 Hours
Miniseries: 24 Hours: Lost
Formats » Paperback
Book Description for Who Needs Mistletoe?
Pilot Sophie Madigan practically drools when her last-minute client walks in on Christmas Eve. Wealthy Trey Shelton III has bedroom eyes, a wicked grin and a body to die for! Sophie can't think of any Christmas gift she'd enjoy more...until they're forced to make a crash landing.
Finding himself on a deserted Pacific island isn't exactly the Christmas Eve Trey had in mind. At least, until he and Sophie leave their inhibitions—and their clothes!—behind.
It should have been nothing more than a holiday fling— island-style. Too bad nobody told either of them....
Buy Who Needs Mistletoe?
Want more Kate Hoffmann books?
It's easy! Go to the erotic romance book list for Kate Hoffmann to see all the Kate Hoffmann books on this site. There you can find a list of books for Kate Hoffmann and links to search results at bookstores.