Zero Control
by Lori Wilde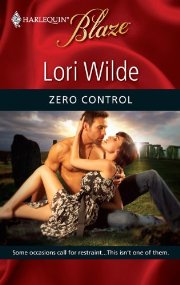 Zero Control
Lori Wilde
Harlequin Blaze #506
Paperback
November 2009
ISBN 10: 0373795106
ISBN 13: 9780373795109
Romance novel

Formats » Paperback, Ebook
Book Description for Zero Control
Eros Vacations presents castles, Shakespeare...and sizzlin' sex!
Live it up—literary style! Guests are whisked away to Great Britain for two weeks of luxury adventure, history and plenty of naughty possibilities! Whether it's an illicit tower tryst, a romantic boat ride or even some hot dungeon action, your pleasure is our concern....
But both executive assistant Roxie Stanley and undercover security agent Dougal Lockhart have their own motives for this vacation. Except that sex—mind-meltingly great sex—is the only thing either can think about. It's forbidden. It's tantalizingly irresistible. And they're losing control...over and over and over!
Buy Zero Control
Want more Lori Wilde books?
It's easy! Go to the erotic romance book list for Lori Wilde to see all the Lori Wilde books on this site. There you can find a list of books for Lori Wilde and links to search results at bookstores.