Earth Guys Are Easy
by Karen Kelley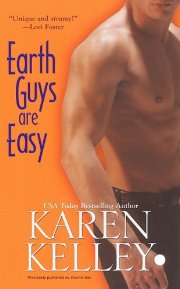 Earth Guys Are Easy
Karen Kelley
Kensington Brava
Paperback
July 2009
ISBN 13: 978-0-7582-1768-4
Romance novel

Nick knows trouble when he sees it.
Formats » Paperback, Ebook
Book Description for Earth Guys Are Easy
The truth is way out there...
Kia can't imagine why her cousin Mala left planet Nerak to go in search of Earth men. At least, not until she meets a virile, muscular human intent on rescuing her from a bar brawl. At first, Kia just wants undercover cop Nick Scericino to help locate her cousin...well, it would be a shame to come all this way without finding out whether everything really is bigger in Texas...
Nick knows trouble when he sees it. And right now, trouble is sitting at the bar—black-clad, sexy as hell, and about to mess up his sting operation to take down some Russian mobsters. Kia's certainly not like any woman he's known—flat out demanding sex, and following through with a sensational romp. Either she's crazy or she's not kidding about being an alien. Now the only thing worse than falling wildly in lust with someone who's not playing with a full holodeck is the thought that she'll soon be leaving for a galaxy far, far away...
Buy Earth Guys Are Easy
Earth Guys Are Easy Characters
Want more Karen Kelley books?
It's easy! Go to the erotic romance book list for Karen Kelley to see all the Karen Kelley books on this site. There you can find a list of books for Karen Kelley and links to search results at bookstores.