Ultimate Weapon
by Shannon McKenna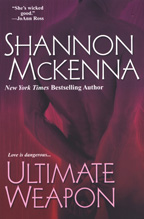 Ultimate Weapon
Shannon McKenna
Kensington Brava
Trade Paperback
October 2008
384 Pages
ISBN 10: 0758211899
ISBN 13: 978-0758211897
Romance novel

Series: The McCloud Brothers
Formats » Trade Paperback, Ebook, ebook
Book Description for Ultimate Weapon
Tamara's a bad girl with a dangerous difference. Enter a terrifying, sexually charged world of thrilling suspense, where love is the riskiest game of all...
The First Cut Is The Deepest
Covert operations are what Val Janos is all about. The man is mysterious and sinister, and lethally hot. Only Tamara can understand the strange intensity that drives him to win at all costs—and only she can match it.
Val has one weak spot: Imre, the frail old man who befriended him when he was a scared, hungry kid abandoned on the streets of Budapest. But Daddy Novak knows about Imre, and Imre's head is on the block if Val doesn't deliver Tam up to Novak's tender mercies...
A white-hot passion explodes when Tam and Val get too close. They both have too much to be afraid of, too much to hide. And now, for the first time, too much to lose...
Buy Ultimate Weapon
Want more Shannon McKenna books?
It's easy! Go to the erotic romance book list for Shannon McKenna to see all the Shannon McKenna books on this site. There you can find a list of books for Shannon McKenna and links to search results at bookstores.