When Someone Loves You
by Susan Johnson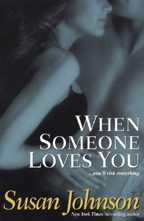 When Someone Loves You
Susan Johnson
Kensington Brava
Paperback
July 2006
ISBN 10: 0-7582-0939-8
Romance novel

Formats » Paperback
Book Description for When Someone Loves You
New York Times bestselling author Susan Johnson delivers a spellbinding story of passion, scandal, and the chances you're willing to take...
When Someone Loves You
It was common gossip that "Duff" D'Abernon, Marquis of Darley, had returned from Waterloo a changed man. Gone was the reckless youth and in his place was a sullen recluse more interested in tending his horses than attending balls. But now the Marquis was entering the game again, openly flirting with the beautiful, witty, and thoroughly disreputable Annabelle Foster.
Annabelle's no stranger to scandal. The actress-playwright is rumored to have had liaisons with any number of powerful men, with an illegitimate daughter to show for it. She won't chance heartache again, even for a man as tempting as Duff D'Abernon. What she offers instead is a compromise: a true friendship between equals.
Each agrees to the terms. A bargain is struck. And an idyllic summer begins. But what starts as friendship soon blossoms into searing passion. And the only thing worse than risking their hearts is not risking them at all...
Want more Susan Johnson books?
It's easy! Go to the erotic romance book list for Susan Johnson to see all the Susan Johnson books on this site. There you can find a list of books for Susan Johnson and links to search results at bookstores.