Without A Word
by E.C. Sheedy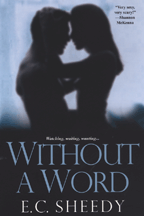 Without A Word
E.C. Sheedy
Kensington Brava
Paperback
February 2007
ISBN 10: 0-7582-1561-4
Romance novel

Formats » Paperback
Book Description for Without A Word
I Would Live For You...
Deep in the woods, a runner takes long strides, satisfied that at last she's on the right path. She's done what she had to do, and she'll make the best of her second chance. She'll live by the motto on her t-shirt: life is good. Only when the surprise visitor with the familiar face steps from the cover of tall trees, does she learn something else: life is also short...
I Would Die For You...
Camryn Bruce can't believe her best friend has been brutally murdered. Now Camryn is the guardian of her precious little girl, Kylie. To Camryn, Kylie is like a gift, the daughter she could never have. But other people want Kylie, too. And someone will do anything to get her—lie, cheat, steal, and worse. So much worse...
I Would Kill For You...
Dan Lambert may only have married Kylie's mother to help her out, but that doesn't change the love he feels for the little girl who has always called him "Daddy." He won't sell out on Kylie, and if that means getting into Camryn's life, so be it. He hadn't counted on the hunger she'd awaken in him, a passion he never thought he'd find again—a happiness that could be short-lived. Someone is waiting, watching...wanting. Someone whose dark passions will not be denied. And Dan's protection may not be enough to stop a twisted killer from getting close enough to kill...
Buy Without A Word
Want more E.C. Sheedy books?
It's easy! Go to the erotic romance book list for E.C. Sheedy to see all the E.C. Sheedy books on this site. There you can find a list of books for E.C. Sheedy and links to search results at bookstores.