Coming Undone
by Lauren Dane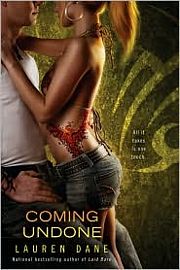 Coming Undone
Lauren Dane
Berkley Heat
Trade Paperback
January 2010
ISBN 10: 0425232700
ISBN 13: 978-0-425-23270-5
Romance novel

Formats » Trade Paperback, Ebook
Book Description for Coming Undone
A new novel of "toe-curling" erotic romance from the national bestselling author of Laid Bare.
After his parents' death, Brody gave up a promising career to care for his family. Now, with his siblings grown, Brody owns his own business, and for the first time in years he's alone. Elise has come to Seattle with her daughter to find peace. After years as a world-famous ballerina-and trapped in a marriage gone bad-she's looking for neither love nor attention. But she finds both in the handsome, honest man who befriends her with no strings attached.
Brody and Elise discover in each other the wild, physical passion they need. But it'll take a shadow from Elise's past to make them look beyond what they need-to what they truly desire.
Buy Coming Undone
Want more Lauren Dane books?
It's easy! Go to the erotic romance book list for Lauren Dane to see all the Lauren Dane books on this site. There you can find a list of books for Lauren Dane and links to search results at bookstores.