Explosive
by Beth Kery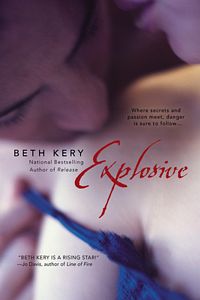 Explosive
Beth Kery
Berkley Heat
Trade Paperback
December 2010
336 Pages
ISBN 13: 9780425236710
Romance novel

Formats » Trade Paperback, Ebook, ebook
Book Description for Explosive
Dr. Sophie Gable didn't expect her peaceful getaway to be shattered by the arrival of the half-dazed, dead-sexy Thomas Nicasio, an ex-Navy explosives specialist. Even though he's traumatized, Thomas can't resist the urge to overtake Sophie--and her willing submission makes him want her all the more. But danger is lurking close by, and if he can't face the demons of his past, he and Sophie could be the next victims in a pattern of meaningless violence.
Buy Explosive
Want more Beth Kery books?
It's easy! Go to the erotic romance book list for Beth Kery to see all the Beth Kery books on this site. There you can find a list of books for Beth Kery and links to search results at bookstores.