Hot in Here
by Sophie Renwick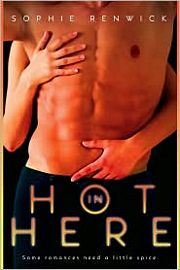 Hot in Here
Sophie Renwick
NAL Heat
Trade Paperback
June 2009
ISBN 10: 0451226917
ISBN 13: 978-0-451-22691-4
Romance novel

Formats » Trade Paperback, Ebook
Book Description for Hot in Here
A sizzling debut novel starring a sexy TV chef who steams up more than just entrees...
She wasn't his kind of dish-until someone turned up the heat...
Celebrity chef and infamous ladies' man Bryce Ryder can't believe the thoughts he's having about his old friend Jenna McCabe. She's always been the shy girlnext- door, but when some bad publicity threatens everything he's built, Jenna gets down to business- and shows a side of herself that is take-charge and totally irresistible.
Soon things are heating up in and out of the kitchen-and all of Jenna's secret fantasies about Bryce start coming true. But will she be the one to tame his heart, or is the sexy chef just indulging another one of his cravings?
Buy Hot in Here
Want more Sophie Renwick books?
It's easy! Go to the erotic romance book list for Sophie Renwick to see all the Sophie Renwick books on this site. There you can find a list of books for Sophie Renwick and links to search results at bookstores.