Laid Bare
by Lauren Dane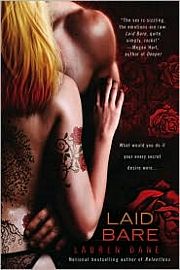 Laid Bare
Lauren Dane
Berkley Heat
Trade Paperback
August 2009
ISBN 10: 0425229718
ISBN 13: 978-0-425-22971-8
Romance novel

Formats » Trade Paperback, Ebook
Book Description for Laid Bare
Unexpected Desire...
It's been ten years since clean-cut, sexy-as-hell police officer Todd Keenan had a white-hot fling with Erin Brown, the provocative, wild rocker chick next door. Their power exchange in the bedroom got under his skin. But love wasn't in the cards just yet...
Now, life has thrown the pair back together. But picking up where they left off is tough, in light of a painful event from Erin's past. As Todd struggles to earn her trust, their relationship takes an unexpected and exciting turn when Todd's best friend, Ben, ends up in their bed--and all three are quite satisfied in this relationship without a name. As the passion they share transforms Erin, will it be enough to help her face the evil she thought she had left behind?
Buy Laid Bare
Want more Lauren Dane books?
It's easy! Go to the erotic romance book list for Lauren Dane to see all the Lauren Dane books on this site. There you can find a list of books for Lauren Dane and links to search results at bookstores.