Ravished by a Viking
by Delilah Devlin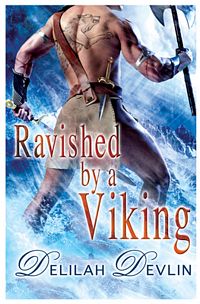 Ravished by a Viking
Delilah Devlin
Berkley Heat
Trade Paperback
January 2011
320 Pages
ISBN 13: 9780425239612
Romance novel

Formats » Trade Paperback, ebook,
Book Description for Ravished by a Viking
What a Viking wants, a Viking takes.
When his younger brother goes missing, Dagr, Viking warrior and Lord of the Wolfskin Clan, will do whatever it takes to get him back. But nothing could have prepared him for Honora-a feisty, intelligent woman who is nothing like the women of his world-women who are content to serve their men in all things. Drawn to her despite her recalcitrant nature, Dagr is determined to show her who's boss both in bed and out.
When the two enemies-turned-lovers join forces to find Dagr's brother they are thrown into a rousing adventure full of danger, intrigue and erotic abandon. Can their passion truly unite them or will their different worlds lead to destruction for them both?
Buy Ravished by a Viking
Want more Delilah Devlin books?
It's easy! Go to the erotic romance book list for Delilah Devlin to see all the Delilah Devlin books on this site. There you can find a list of books for Delilah Devlin and links to search results at bookstores.